My "knife" story is probably similar to that of many other people.
Growing up on a small farm a fair way out from the nearest small town, I don't remember ever not having a knife.  It was always a good tool to keep close at hand.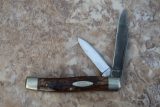 The first knife I clearly remember was a Case two blade Trapper.   It was the one I picked out of the display at the local feed store after my father's prompt.  Somehow, by luck alone I imagine, I never lost it and still have it.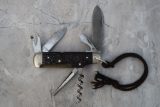 When I was a little older, in my early teens, my grandfather gave me his father's Boker Scout/camp knife multi-blade.  I didn't know about Swiss Army knives then, but this was very close, and I loved that tool.  I made a lanyard from an old bootlace, attached it to the metal bail, and when I dropped the knife into my pocket I would tuck the knot of the lanyard up under and behind my leather belt.  Must have helped, because I still have that as well.  Although the shield fell out at some point.
I remember finding in the small creek on our land an older fixed blade German or British made hunting knife, with a stag handle and aluminum pommel, but did manage to lose or miss-place that, as I have not seen it in many years.
I found a few other smaller knives and some kitchen knives, in various states of disrepair, in an old dump on our farm, as time went on.
At some point I decided to try and sharpen my pocket knife and found an old piece of semi-flat sandstone in our creek-bed, where I spent considerable time as a child rockhounding and exploring.  I used that piece of sandstone, and water from wherever I happened on it, to hone my blades.

Starting early in my teen years, it was pretty typical of me, when leaving the house to walk to the mailbox, down to the creek or to the woods, to take my father's Colima machete with me. My father had purchased this double sided three foot long tool on a trip to Mexico, before I was born. The story is he got many a question about it at the border as he crossed back over. We had so many blackberries on the farm and it was handy to have a longer blade to trim them back, or cut an access trail. This blade became a steady companion on my jaunts.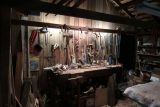 Eventually I discovered my father's Arkansas stones and Japanese water stones in the old damp shop, and graduated to sharpening some of the kitchen knives.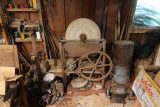 There was an old electric driven large sandstone wheel in the shop that I would use to sharpen hatchets or the long-bladed Colima machete my father had brought back from Mexico before I was born, that I never seemed to be without when I went woods- or creek-bumming, which was pretty much all the time.
I am not sure what prompted it, but at some point I started regrinding some of those old dump-found kitchen and carving knives into other shapes and making handles for others.
I also used to whittle a number of knife-shaped-objects from wood I found in the woodshed or other places, with either the Case or Boker folder. One I even tied a double crossguard onto.
Luckily, when I got to public school, no-one seemed to be bothered, at that time, by the pocket knife or two I carried.
And when I eventually got to high school metal and woodshop, my teachers actually promoted my interest in fabricating cutlery.  I started out fashioning blades from mild steel, then started regrinding Ontario kitchen knives and using some of the mill bandsaw blade steel that was lying around the scrap pile in metal shop.
Around that same time, I ran across an add for Smoky Mt Knife Works and ordered a catalog.  I was amazed by the selection of products in their catalog, and immediately started to save any extra money I made to order all kinds of knives from them, much of it inexpensive stuff imported from Pakistan.
But I also purchased many Parker Cutlery balisongs ("butterfly" knives). I remember these knives fondly because they enabled me to really start collecting knives. I was able to purchase these well made, but inexpensive, balisongs and sell them at a price that helped me fund the purchase of more knives. Balisongs were popular at that time, and there was nothing available of the quality and price that I provided, so for several years I sold these knives and others to people I knew or people they knew. I only wish I had saved a few more of them for myself!
This time was a major turning point for me. Now I was known as the "knife guy". That in turn steered my classmates and others to me for sharpening work, etc. I had started my first "business", the seed of which would grow into Stone and Steel Knifeworks (the knifeworks part of the name actually pays homage to that business that helped me get started those many years ago)
I also found I could start with already made knives (often the less expensive ones made in Pakistan), although rough finish-wise, and re-grind them, or improve their finish or replace handle materials with something nicer or a better fit. I didn't have to worry about heat-treating them, and if I went slow, no worries about ruining them.
Eventually I started buying pre-made finished blades from Solingen, Germany through Jantz Supply, and adding my own handles to them. I would also regrind the blade profiles sometimes to give them something of my own flavor.
All of this regrinding was done on wood belt sanders (the smaller handheld type or larger woodworking sanders with 6″ x 48″ belts), the big water wheel in the farm shop, old benchgrinder mandrels I found or got for next to nothing at rural garage sales. I would rig up an old washing machine motor and pulley combinations to run them slower. I also used second hand files a lot.
Soon I bought a few blades from Bob Engnath, and put handles on them.
Finally, I earned a safety award when I was employed as a biological/silviculture technician with the US Forest Service. This award included a monetary portion. With that extra money, I ordered a drill press from Harbor Freight Tools and a 2 x 72" belt grinder from Grizzly Machinery. I ordered some Starrett O-1 from McMaster Carr Industrial Supply.
To heat treat my blades, I used Wayne Goddard's Goop Quench, and a second hand Oxy-acetylene torch and tanks, deferentially hardening them.
And the rest is, well, that is another story.