Occasionally I take on restoration, and preservation projects.
There can be a fine line between repair, restoration and preservation; restoration typically involves a lot more detail and/or repairs of several parts of a knife and/or sheath. Restorations may include cleaning, rust removal, polishing, regrinding, sheath or handle retreating and occasionally replacing missing or broken parts, like guards, etc. Refer to the list on the Repair page for more ideas.
Restorations are meant to restore the knife's functionality and not meant to be "museum quality restorations". This means that the goal is not specifically to preserve, or improve, the collectors value. This is because in almost all situations, any work completed on a knife, often even sharpening, will have a detrimental effect on its collector's value.
I enjoy being able to take a tool that a person can't use anymore, or is reluctant to use because it is in disrepair, and help them be proud or happy to use and share that tool with others again.
Since I am still learning to do mirror polishes, for now I am limiting my polishing on blades to various degrees of satin finish.
The goal with preservation projects is a little different. In those situations it may be important to not remove the "history" or the story the item has to tell. The item may be a valued family heirloom or an important historical piece. An attempt is made to not decrease its collectors value. Preservation requires great care and expertise; one could say the mind-set is to "do no harm". The difference between before and after the work may seem more subtle, but it is there.
The primary objective is to halt any further degradation that may be occurring. This might include removing dirt or grime; removing active red surface rust; halting further rust; conditioning antler, bone, leather or wood handle material; leaving the patina, scratches and dents acquired during its life of use, all done with great care. In preservation projects, usually nothing is replaced and no metal or other part of the knife is removed.
Drawing on my extensive experience in this field, I will consult with you about your project and make recommendations on which approach I suggest would be best for your piece.
I really enjoy restoration and preservation projects; they can be very challenging at times, but the results are always a great reward to me.  
To give you an idea the work I can do, and how I might be able to help you,  below I share a few examples of restoration projects I have completed.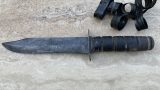 An older Ka-bar Marine combat or fighting knife, with a USMC stamp. This one had a broken off tang end and pommel and deteriorated stacked leather handle wrapped in electrical tape. With preservation work completed on the blade to maintain the character acquired over its life, an extension welded onto the tang, and a new stacked leather handle and pommel installed, it was back in service for the clients next hunting trip. The client opted for a more traditional un-grooved handle.



A vintage Pal RH-36 military fighting or combat knife with a stacked leather handle, with much red rust on the blade and guard. After gentle restoration work was completed on all parts of the knife, the results are subtle in the photos.




This classic Western Bowie had been left in it sheath for too long in a damp environment, and have severe rust and pitting.  I was able to remove most of the rust and all but the deepest pitting.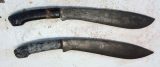 These two handmade bolo knives were acquired by a client in the Philippines, while completing a jungle survival training course in the 1970s.  After 40+ years of use, they were pretty rough looking, and the horn handles had not survived very well, being cracked and badly warped.
These were probably forged from truck springs; two very solid blades.
I attempted to retain some of the forging marks on them, and the client opted for presentation Cocobolo handle scales.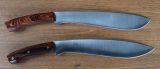 A very enjoyable project for me, although it was tough not to head out to the bush and work with them!  This type of tool ranks high on my favorites list.  I love indigenous edged tools, the more primitive the better.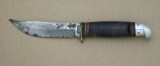 An old Western Boy Scout knife that was a very cherished family heirloom soon to be passed from grandfather to grandson on a special birthday.  Unfortunately it had been stored in the sheath for too long and had quite a bit of rust built up on the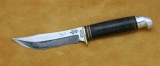 blade.  Over the years the handle had lost
several pieces of stacked leather, as well.   Although the pitting in the blade could not be removed, the family was overjoyed at the end result.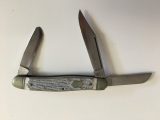 A Camillus three blade stockman pocket knife with tarnish on the blades and faded handle slabs.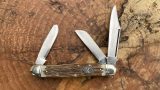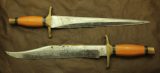 A stunning matched set by Ralph Bone.
Both of these massive knives had acquired some surface rust over time in storage.
Each knife's sheath was cleaned and re-conditioned, as well.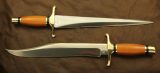 This is an old Ka-bar hunting knife that a client brought to me. The stacked leather handle and the sheath had mildew on them and the sheath leather was dried out. There were also many dents in the pommel and tarnish throughout. A little elbow grease and both the sheath and knife were ready for many more years of service.
This is an old Hubertus hunting knife that had been in a house fire. It had a stag handle that had been ruined and the blade had considerable tarnish and some pitting from the lye of the ashes. I informed the client that any heat-treat of the blade had surely been lost in the heat of the fire and I would be hard pressed to replicate it, but he only wanted the knife for it's sentimental value and didn't plan to cut anything with it. This knife required a complete restoration: cleaning, polishing and installation of new stag handle slabs, tang pins and lanyard hole. I enjoyed this one a great deal.