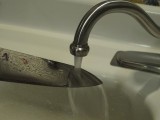 Resist the temptation to wash your knives in the dishwasher.  The temperature in a dishwasher gets very high and can cause the handle materials, especially wood, to warp and subsequently separate from the tang.  Although some handle materials are advertised as "dishwasher safe", most cannot stand up to the repeated exposure to the high temperatures in the average dishwasher for very long.   Different materials also expand at different rates.  This differential expansion rate means that when a knife with a steel tang and a wood or synthetic handle is exposed to rapidly rising high temperatures, such as those in a dishwasher, the handle can separate from the tang, warp and/or crack.
The high velocity of the water jets in a dishwasher can also cause the knife to be tossed around in the washer cages, striking other utensils and dishes, thus damaging the edge.
While using the knife, try to avoid getting food or the substance you are cutting on the handle, especially if it is a natural material.   If you do, just wipe it off with a damp cloth and dry it.
If you are finished using the knife and can't immediately wash it, set it aside in a safe place out of the way, but avoid placing it in the sink where it can get submerged in water or the edge can strike the sink or other items already in or that will be added to the sink.
When it comes time to clean your knife, the best way is to carefully wash the blade with warm soapy water, as soon as you are finished using them.  Be careful of the sharp edge while washing them to avoid getting injured.  Wash the blade from the spine toward the edge.
Dry the knife carefully, avoiding the sharp edge.
If you don't have any soap or warm water handy, any water will work. If you are out processing game meat, try to wipe as much off with a damp rag, dry it as best as you can, and just remember to give your knife a good cleaning when you get to a place that you can.
If the knife is a carbon steel, it would help to give a light coating of oil, like food grade mineral oil.  Ballistol is another non-toxic product I recommend.  Although gun oil, or substances like WD-40 or Liquid Wrench will work well, you will taste them if you cut any food with your knife coated in these substances. Nasty.