Never ship a knife with an exposed blade. This is very dangerous to those folks who work in the shipping services and may result in your package being confiscated and you being fined.
If it is a folding knife, and can be closed, fold all blades closed.
If it is a fixed blade with a sheath, you may consider shipping it in the sheath, if the sheath is solid.
If it is a fixed blade without a sheath, or you prefer to not ship the sheath, create a cardboard cover for the blade.
Take a piece of corrugated cardboard (the type shipping boxes are made from). Fold it in half and place the blade's edge in the crease of the fold. Mark the length one inch past the tip of the blade.
Set the knife aside.
Unfold the piece of cardboard and trim it to length and to a width that is slightly over twice the width of the widest part of the blade. Re-fold along the crease and tape the other side together.
You should now have a cardboard "sheath" that will cover the blade. Very carefully slide the blade into this cardboard cover, with the edge along the fold in the cardboard.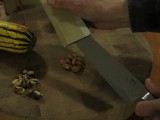 Wrap the closed folding knife, knife with sheath or knife with the cover in bubble wrap or packing paper, taping it together.
Place this bundle in a sturdy box, with plenty of packing material around it so it does not shift during shipping.
It helps to include in the box a print-out of the portion of our correspondence that discusses the work we agreed on.
Also include the shipping address where you would like the knife returned to.
Consider not writing anything on the box that states or implies there is a knife in the package. For example, abbreviate my business name to S&SK. This can help deter theft.
I suggest you ship your package with insurance, via the carrier of your preference.