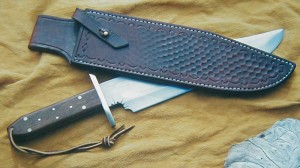 Stone and Steel Knifeworks offers knife sharpening, repair, and restoration services.
I operate part-time at my shop near the cities of Albany and Corvallis, OR. Due to other obligations, I have limited availability, so I take projects on a case-by-case basis, but if I can't take on your project, I can refer you to someone who can.
I have also included on this site some information about various aspects of knifemaking. I enjoy helping those interested in learning.
Please contact me with any questions, suggestions, or inquiries about any of the information presented here. Thanks for visiting!