Knife Repair: Specializing in broken tip regrinds and chipped edge repairs
My most common repairs are chipped edges and broken tips.
Regardless of the repair, it is a joy to bring these tools back to full, safe function again.
My ability to work on folding knives is very limited due to the fact it is not very practical for me to replace any of the moving parts or springs.
Below are a few selected examples of repairs I have completed for clients.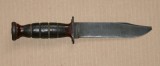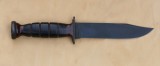 An early Ka bar fighting utility with a broken tip.  Note the full flat ground blade, very different then the current ones.  The current saber-ground models don't cut nearly as well as this older one does, due to the primary bevel angle, but that also made the older ones more likely to break at the tip since they were thinner.  Once I finished the regrind I re-blued the blade to match it's original appearance.
This Schrade trapper folder had a broken tip.  With the tip reground and some small rust spots removed, this pocket knife was back in service again.
Anoth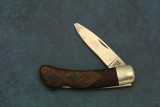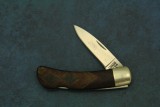 er pocket knife with a broken tip, this time a Camillus lock back,with a very nice wooden handle.  Soon it was almost good as new.
A nice older Randal which had suffered some unfortunate accident. This project was a bit of a challenge since a good p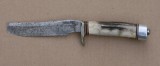 ortion of the tip was missing and there were several angles and curves to bring together. The client wanted a light patina added to the blade for a margin of protection.  I really enjoyed this project; a beautiful older knife that was a ch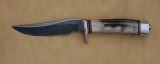 allenge to work on.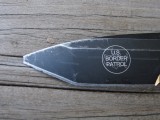 This Benchmade  9100 Auto folder was very special to the client, who had earned it while on the job.  It had been her daily companion until its tip got broken.  She wasn't sure it was repairable but I got it taken care of and she was very happy to have a functional companion again.
This is a very typical repair. A client brings
me a Chef's knife with the last inch or so broken off and I repair the tip so the knife will have a point again. Many kitchen knives from Japan have a tip identical to this, so it I think it works well aesthetically; at least better than looking at a broken tip.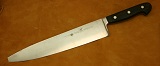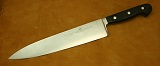 Sometimes, if only a small portion of the tip is broken off, I can regrind it so the knife has the same profile it had when it was new, only slightly shorter.
A fair amount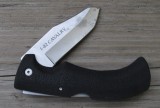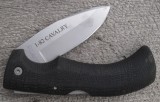 of the tip of this Gerber Gator folder was broken off.  An early attempt to repair it was evident.  I came up with a repair that returned it to functionality, although it looks a little runty now…the client was very happy to have a working knife again.
This knife (a Cold Steel SRK) was presented to a client when he was in the National Guard. While hunting he killed a blacktailed deer and when butchering it proceeded to use this knife to try and break the pelvic bone. I don't recall if he got through the bone, but he did a number on the edge of the knife. A small portion of the tip was also broken off. So I reground the bevels on each side with a slight convex grind, just in case he wanted to hack up anything else, and fixed the tip. The sad thing is, the next fall he was hunting with this knife and lost it in a brushy creekbed. I tried to get him to tell me where it was so I could go look for it.
This is an old Buck Special that the client had broken the tip off of and then tried to regrind it himself. There were also a few large chips in the edge and many scratches on the blade. I wasn't sure I would be able to make this one work, but it came out looking pretty good. There were a lot of different angles to get right.
A common repair, replacing handle slabs. This particular Wustof Trident chef's knife has a 16" blade on it (yea, it is a big one) and was used by a pizza maker for cutting pizzas. The slabs had cracked and split and needed to be replaced. The new slabs are straight-grain cocobolo. I was told by a knife purveyor that only 100 of these particular blades were ever made.
Knife Restoration
Occasionally I take on restoration projects.
There can be a fine line between repair and restoration; restoration typically involves a lot more detail and/or repairs of many parts of a knife and/or sheath. Restorations may include cleaning, rust removal, polishing, regrinding, sheath or handle retreating and occasionally replacing missing or broken parts, like guards, etc.
These restorations are meant to restore the knife's functionality and not meant to be "museum quality restorations".
I really enjoy restoration projects; they can be very challenging at times, but the results are always a great reward to me.  I enjoy being able to take a tool that a person can't use anymore, or is reluctant to use because it is in disrepair, and make them proud and happy to use and share that tool with others again.
I am still learning to do mirror polishes on blades, so for now limit my polishing to various degrees of satin finish.
Below are a few examples of restoration projects I have completed. 


This classic Western Bowie had been left in it sheath for too long in a damp environment, and have severe rust and pitting.  I was able to remove most of the rust and all but the deepest pitting.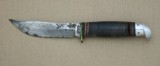 An old Western Boy Scout knife that was a very cherished family heirloom soon to be passed from grandfather to grandson on a special birthday.  Unfortunately it had been stored in the sheath for too long and had quite a bit of rust built up on the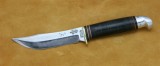 blade.  Over the years the handle had lost
several pieces of stacked leather, as well.   Although the pitting in the blade could not be removed, the family was overjoyed at the end result.
This is an old Ka-bar hunting knife that a client brought to me. The stacked leather handle and the sheath had mildew on them and the sheath leather was dried out. There were also many dents in the pommel and tarnish throughout. A little elbow grease and both the sheath and knife were ready for many more years of service.
This is an old Hubertus hunting knife that had been in a house fire. It had a stag handle that had been ruined and the blade had considerable tarnish and some pitting from the lye of the ashes. I informed the client that any heat-treat of the blade had surely been lost in the heat of the fire and I would be hard pressed to replicate it, but he only wanted the knife for it's sentimental value and didn't plan to cut anything with it. This knife required a complete restoration: cleaning, polishing and installation of new stag handle slabs, tang pins and lanyard hole. I enjoyed this one a great deal.